Join Consumers Credit Union & Start Banking Today!
Consumers Credit Union Rewards Checking Account pays one of the highest yields nationwide while offering all the conveniences users deserve.
Its FREE to open a rewards checking account!
Banking Features Include:
*Unlimited reimbursement for any and all ATM fees*
*Over 30,000 ATMs & over 5,000 shared branches
*Online Banking and Bill Pay
*Mobile Banking
*Never a minimum balance
*Earn Up to 5.09% APY* on balances up to $10,000
*No monthly maintenance fees, for anything
*Visa Debit Card with Chip Technology
*Write unlimited checks
There's also a referral program for members.
Interested?
APPLY FOR A FREE CHECKING ACCOUNT HERE!!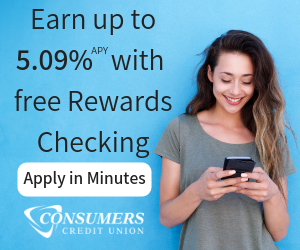 Interested in more offers? Follow Freebies, Deals & Cash on Facebook to see more!