OFFER EXPIRED!!
What is Greenlight Fiancial?
Greenlight is all about financial education for kids. We help them learn about money management through a safe, secure app where parents manage every dollar and see every transaction.
How much does Greenlight Cost?
For a limited time, Greenlight is offering the first month FREE for new users. After the 30 day free trial is over, its only $4.99/mo (for up to 5 kids), which also includes debit cards for all kids. Which is still cheaper than many "basic" bank accounts offered these days.
How does it work?
Parents create their own Greenlight account, and they can load/disperse funds to their children directly from the app, which they can spend right away as a debit transaction. (PERFECT for allowance and chores).
How do i sign up?
Sign up by going HERE or GreenLightCard.com and sign up. It'll ask all of your basic information. (Name, email, phone, childrens names/DOB, and your SSN – just like any other bank account) & a valid debit card or bank account to fund the kids accounts later on. You will NOT be charged the $4.99 until AFTER your first month is over.
You can opt out & cancel at any time if you feel Greenlight is not for your family. (and you will not be charged the $4.99 monthly fee)
Can I earn Money too??
Yes! Greenlight will also allow you to refer others and you'll earn $10 per referral! (optional) ** MUST have a bank account added to participate**
Interested?
*** YOU MUST LINK A DEBIT CARD TO YOUR ACCOUNT!!**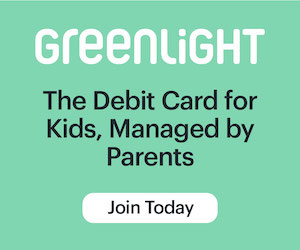 Be sure to LIKE us on Facebook to see more offers!